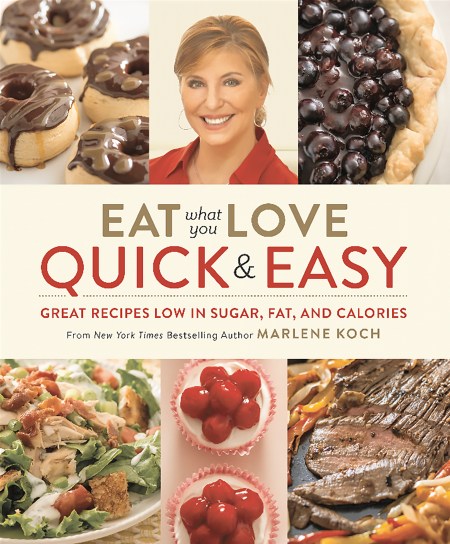 Eat What You Love: Quick & Easy
Great Recipes Low in Sugar, Fat, and Calories
Great-tasting, guilt-free favorites-in a flash!


Every recipe 30-minutes, 10-ingredients, and 3 easy steps–or less!
From creamy No-Bake Cherry-Topped Cheesecake to Cheesy Bacon Chicken, Deep-Dish Skillet Pizza, and 2-Minute Chocolate "Cup" Cakes for One, every speedy crave-worthy recipe in this book is low in sugar, fat, and calories-but you would NEVER know by tasting them! In Eat What You Love: Quick & Easy, New York Times bestselling author Marlene Koch proves once again why she's called "a Magician in the Kitchen!"
Readers rave about Marlene's amazing recipes, and in her quickest, easiest collection of recipes ever, she makes eating what you love a snap with flavor-packed favorites like:
* Crispy Teriyaki Fried Chicken – 10 minutes prep and only 205 calories
* Quick-Fix Quesadilla Burgers – 320 calories instead of the usual 1,420!
* 15-Minute Coconut Cream Candy Bar Pie – 190 calories and 70% less sugar
With more than 180 super-satisfying family-friendly recipes for every meal of the day-this cookbook is perfect for everyone, and every diet!
Plus:
Nutritional information for every recipe with diabetic exchanges, carb choices, and Weight Watcher point comparisons.

(Note: Current up-to-date downloadable Weight Watcher points addendums for all Eat What You Love books can be found on the MarleneKoch website.)





Read More
Praise
"Many people stop eating some of their favorite dishes when they start gaining weight. ...
In Eat What You Love
, Marlene Koch tells you how to start losing weight by eating the same favorite dishes."
--Washington Book Review
"Cheerful advocate of low-calorie, healthy home cooking, Koch brings her fans another volume loaded with recipes that promise the benefits of calorie-conscious eating and the appeal of hearty flavors. This collection further assures the busy cook that all these dishes can be quickly prepared after a day's hard work."
--Booklist
Read More
Read Less