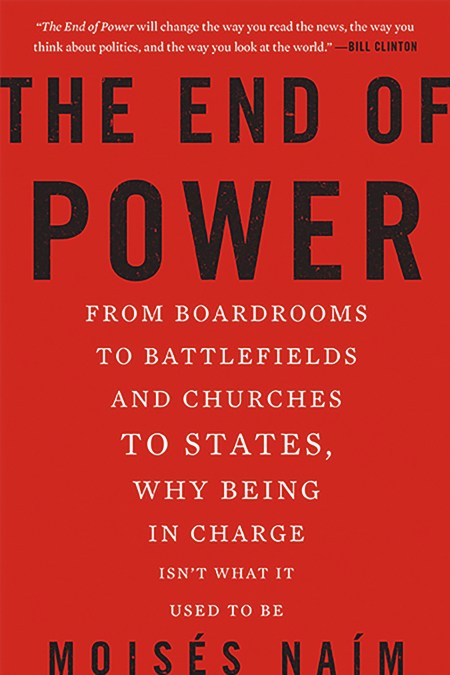 The End of Power
From Boardrooms to Battlefields and Churches to States, Why Being In Charge Isn't What It Used to Be
The provocative bestseller explaining the decline of power in the twenty-first century — in government, business, and beyond.
Power is shifting — from large, stable armies to loose bands of insurgents, from corporate leviathans to nimble start-ups, and from presidential palaces to public squares. But power is also changing, becoming harder to use and easier to lose. In The End of Power, award-winning columnist and former Foreign Policy editor Moisés Naím illuminates the struggle between once-dominant megaplayers and the new micropowers challenging them in every field of human endeavor. Drawing on provocative, original research and a lifetime of experience in global affairs, Naím explains how the end of power is reconfiguring our world.
"The End of Power will … change the way you look at the world."–Bill Clinton
"Extraordinary."–George Soros
"Compelling and original."–Arianna Huffington
"A fascinating new perspective…Naím makes eye-opening connections."–Francis Fukuyama
Inaugural Pick for Mark Zuckerberg's "Year of Books" Challenge * Financial Times Best Book of the Year * Washington Post Notable Book * Washington Post Nonfiction Bestseller
Read More
Praise
"Moisés Naím's The End of Power offers a cautionary tale to would-be Lincolns in the modern era. Naím is a courageous writer who seeks to dissect big subjects in new ways. At a time when critics of overreaching governments, big banks, media moguls and concentrated wealth decry the power of the '1%,' Mr. Naím argues that leaders of all types--political, corporate, military, religious, union--face bigger, more complex problems with weaker hands than in the past."—Wall Street Journal
"Analytically sophisticated...[a] highly original, inter-disciplinary meditation on the degeneration of international power.... The End of Power makes a truly important contribution, persuasively portraying a compelling dynamic of change cutting across multiple game-boards of the global power matrix."—Washington Post
"This fascinating book...should provoke a debate about how to govern the world when more and more people are in charge."—Foreign Affairs
"Naím produces a fascinating account of the way states, corporations and traditional interest groups are finding it harder to defend their redoubts.... (He) makes his case with eloquence."—Financial Times
"A timely and timeless book."—Booklist
"Having served as editor-in-chief of Foreign Policy and the executive director of the World Bank, Naím knows better than most what power on a global scale looks like.... [A] timely, insightful, and eloquent message."—Publishers Weekly, starred review
"Foreign Policy editor-in-chief Naím argues that global institutions of power are losing their ability to command respect. Whether considering institutions of government, military, religion or business, the author believes their power to be in the process of decaying.... A data-packed, intriguing analysis."—Kirkus Reviews
"After you read The End of Power you will see the world through different eyes. Moisés Naím provides a compelling and original perspective on the surprising new ways power is acquired, used, and lost--and how these changes affect our daily lives."—Arianna Huffington
"From his seat in the Venezuelan government to his tenure at Foreign Policy magazine, Moisés Naím is no stranger to power and influence. In this book, Naím reveals the ways in which traditional power structures, all across the globe, are transforming, and, in some ways, declining. The End of Power will change the way you read the news, the way you think about politics, and the way you look at the world."
—
William Jefferson Clinton
"Moisés Naím's extraordinary new book will be of great interest to all those in leadership positions--business executives, politicians, military officers, social activists and even religious leaders. Readers will gain a new understanding of why power has become easier to acquire and harder to exercise. The End of Power will spark intense and important debate worldwide."—George Soros
"In my own experience as president of Brazil I observed first hand many of the trends that Naím identifies in this book, but he describes them in a way that is as original as it is delightful to read. All those who have power--or want it--should read this book."—Fernando Henrique Cardoso
Read More
Read Less