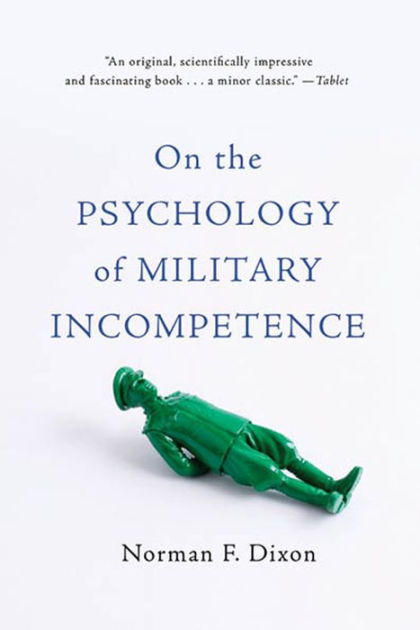 On the Psychology of Military Incompetence

The Crimea, the Boer War, the Somme, Tobruk, Pearl Harbor, the Bay of Pigs: these are just some of the milestones in a century and a half of military incompetence, of costly mishaps and tragic blunders. Are these simple accidents—as the "bloody fool" theory has it—or are they inevitable?

The psychologist Norman Dixon argues that there is a pattern to inept generalship, a pattern he locates within the very act of creating armies in the first place, which in his view produces a levelling down of human capability that encourages the mediocre and limits the gifted. A classic study of military leadership, On the Psychology of Military Incompetence is both an original exploration of infamous modern battles and an essential guide for the next generation of military leaders.

Read More
Praise

Praise for On the Psychology of Military Incompetence

"An original, scientifically impressive and fascinating book . . . a minor classic."—Tablet

"An absorbing, perceptive and often very funny study in human frailty... Stimulating and almost invariably provocative"—Lord Chalfont, Listener

"An absorbing, perceptive and often very funny study in human frailty."—Listener

"It should be compulsory reading wherever future officers are selected or trained, and deserves a very wide readership among psychologists and laymen."—New Society

"An intelligent man's guide to the defects of the military mind... Its conclusions are incontrovertible."—Books and Bookmen

Read More
Read Less