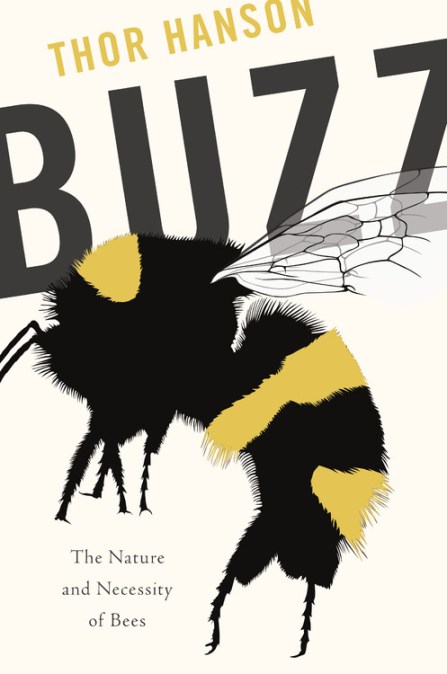 Buzz
The Nature and Necessity of Bees
From the award-winning author of The Triumph of Seeds and Feathers, a natural and cultural history of the buzzing wee beasties that make the world go round.
Bees are like oxygen: ubiquitous, essential, and, for the most part, unseen. While we might overlook them, they lie at the heart of relationships that bind the human and natural worlds. In Buzz, the beloved Thor Hanson takes us on a journey that begins 125 million years ago, when a wasp first dared to feed pollen to its young. From honeybees and bumbles to lesser-known diggers, miners, leafcutters, and masons, bees have long been central to our harvests, our mythologies, and our very existence. They've given us sweetness and light, the beauty of flowers, and as much as a third of the foodstuffs we eat. And, alarmingly, they are at risk of disappearing.
As informative and enchanting as the waggle dance of a honeybee, Buzz shows us why all bees are wonders to celebrate and protect. Read this book and you'll never overlook them again.
Read More
Also by Thor Hanson
"The genius of Hanson's fascinating, inspiring, and entertaining book stems from the fact that it is not about how all kinds of things grow from…
Feathers are an evolutionary marvel: aerodynamic, insulating, beguiling. They date back more than 100 million years. Yet their story has never been fully told.In Feathers,…
Praise
"Thor Hanson is a gifted story teller and naturalist. In Buzz, he takes us along on a wondrous, action-packed journey to discover the secret lives of bees, flowers, and the unconventional men and women who study them. This book really is the buzz about bees, and it's destined to become a natural history classic."
—
Stephen Buchmann, author of The Reason for Flowers
"This book is a joy. In it, Thor Hanson reminds us that the story of bees is the story of the origin of societies, of sweetness and collapse, of flowers and their sex, and if the humans who study all of these things. It is a story of evolution and biodiversity, a story that bears on much of the food we eat but also so very much else. Buy it. Read it. Read it again. And when you do, you will look out at the buzzing world anew."
—
Rob Dunn
,
author of Never Home Alone and The Wild Life of Our Bodies
"Thor Hanson is a magician at making entomology and taxonomy exciting, highlighting the fascinating world of bees. Buzz hums with science and history, exposing how bees have shaped our world. A delightful, buzzworthy must-read!"—Daniel Chamovitz, author of What a Plant Knows
"As he did for feathers and seeds, Thor Hanson has written a wonderfully engaging work of natural history that will delight readers with its elegant prose, surprising stories, and deep humanity. Bees, so important to life on earth, are fortunate to have someone as passionate and knowledgeable as Hanson tell the tale of their evolutionary past, turbulent present, and precarious future. After reading Buzz, you will look at bees with a profound mixture of awe and gratitude."—Eric Jay Dolin, author of Black Flags, Blue Waters, and Leviathan
"This beautifully written natural history book, brought to us by a graceful and talented author, packs surprise after surprise with every turn of the page. Who knew bees were just evolved wasps? Or that ancient Egyptians ferried bees up and down the Nile to pollinate their crops? Don't pass this one up."—Wendy Williams, author of The Horse