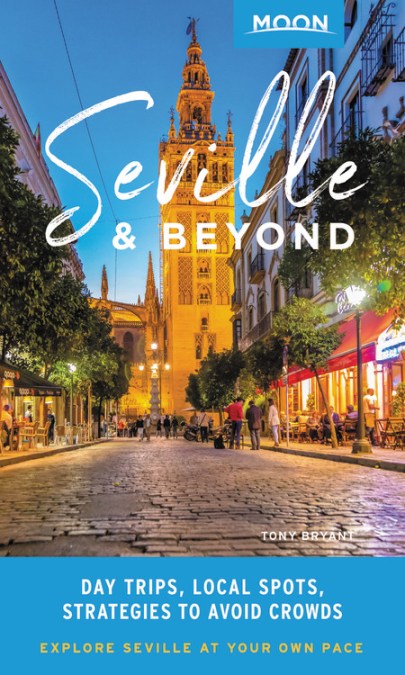 Moon Seville & Beyond
Day Trips, Local Spots, Strategies to Avoid Crowds
Wander a winding maze of cobblestone streets, marvel at towering mosques and cathedrals, and fall under the spell of Andalusia with Moon Seville & Beyond.
Explore In and Around the City: Journey through Seville's most interesting neighborhoods like Giralda and Barrio Santa Cruz or take a weekend getaway to Carmona, Cadiz, Cordoba, or Granada
Go at Your Own Pace: Choose from multiple itinerary options, with ideas for foodies, flamenco fans, and more
See the Sights: Climb the Giralda tower, relax pondside in the tranquil Maria Luisa Park, and stroll the Triana Market for colorful ceramics and endless stalls of fresh food
Get Outside the City: Step back in time in the old barrio of Osuna, hike in Sierra Norte de Sevilla Natural Park and discover its labyrinth of underground tunnels and caverns, and marvel at Granada's Alhambra Palace at sunset
Savor the Flavors: Feast on seafood paella in Cádiz, sample tapas like croquetas and patatas bravas, and sip the world's most famous sweet wines and sherries
Experience the Nightlife: Pub-crawl through Seville, visit a flamenco peña for an unforgettable performance, and linger in a romantic tapas bar
Get to Know the Real Seville: Flamenco expert and longtime Andalusia local Tony Bryant shares his deep love of the region, with tips for supporting local businesses and avoiding crowds
Full-Color Photos and Detailed Maps
Handy Tools: Background information on Seville's history and culture, plus tips on ethical travel, what to pack, where to stay, and how to get around
Day trip itineraries, favorite local spots, and strategies to skip the crowds: Take your time with Moon Seville & Beyond.
Spending more time in Spain? Check out Moon Barcelona & Beyond.
Read More